Product List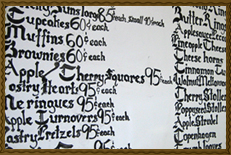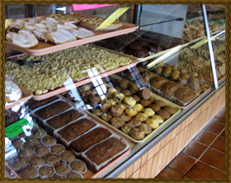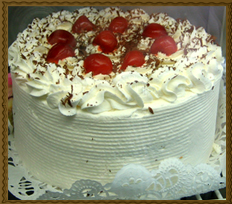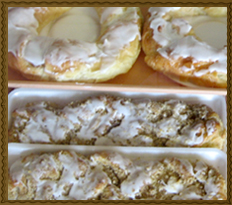 Wolter's Bakery prides itself on serving warm, fresh pastries each and every day. The following list is a sampling of our products.
Small assorted butter cookies
Seasonal cutout cookies
Bulls eyes - sugar cookie, raspberry center, & almond macaroon
Almond crescent - Almond Macaroons
Black & White cookies
Sandwich cookies - sugar cookie filled with raspberry and frosted with vanilla and chocolate icing
Pastry hearts - vanilla or chocolate iced
Pastry pretzels - cookie and pastry dough intertwined with a vanilla glaze
Sour cream pastries - flaky pastry filled with raspberry or apricot
Small butter cutouts - approximately 60 per pound
Pinwheels - puffed pastry with a raspberry or apricot center
Dark chocolate dipped pretzels
Dark chocolate drizzled popcorn
Whipped cream filled cream puffs or éclairs
Napoleans - puffed pastry layered with whipped cream and custard
Linzer slices - cookie crust, raspberry, rum butter cream and dark chocolate
Petit fours - pound cake, marzipan, raspberry and a vanilla glaze topped with a flower or seasonal decorations
Lady Locks - rich puffed pastry filled with whipped cream
Carrot cake with cream cheese frosting
Raspberry Ruffle - Sponge cake filled with dark chocolate and raspberry mousse
Mount Blanc - Rich butter cookies mixed with mocha butter cream and dipped in dark chocolate
Sweet rolls - cinnamon raisin, crumb cinnamon, apple, cheese
Muffins - blueberry, apple nut, peach, chip, cranberry, bran with raisins, banana flax seed, pumpkin, oat bran with raisins and cupcakes
Large cookies - chocolate chip, oatmeal raisin, sugar, raisin, fruit nut bars, peanut butter, fudge nut
Danish - cherry, blueberry, pineapple, apple, walnut, cheese
Walnut meltaways, pineapple cheese, cherry cheese, almond rings, pound cakes, crumb loaves with raisins or apples
Butter rings
Applesauce pecan, apple cinnamon rings, apple kuchen, cinnamon twist
Apple strudel, poppy seed stolen, walnut stolen, cherry stollen
Call us at 716.632.3212 for prices and more information. Thank you and enjoy!